HOME
> From the Management
From the Management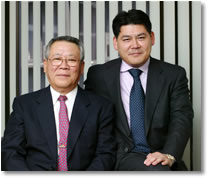 Chairman Tsuyoshi Uetake (left) and
President Shigeru Uetake (right)
For more than 40 years since its foundation KEISEI has played a significant role to the advancement of latest medical technology as a manufacturer of devices and equipments for Plastic Surgery, Micro surgery, Dermatology, Orthopedics related fine surgery, ontological surgery, Urology and Pediatric.
We are licensed manufacturer/distributor of medical devices under Japanese pharmaceutical affairs law. At the same time, our quality management system is certified by SGS UK in accordance with ISO9001 / ISO13485 etc. and we have been developing products in compliance with international standards and requirements.
We have dedicated ourselves also as a developer/supplier of high-tech medical device such as titanium made implants for orthopedics as well as catheters for cardio-vascular and cerebral-vascular field. Maintaining KEISEI unique technologies for devices, equipment and instrument in line with our corporate policy gContribution to the medicine of 21st century g, we never forget to assure our best of quality service to our customers.
We will appreciate and listen to our customersf severe opinion, complaint and advice as a voice of god, which is the greatest support and valuable guide for our future.
KEISEI MEDICAL INDUSTRIAL CO., LTD.
Chief Executive Officer & President
SHIGERU UETAKE